Nothing can add beauty and warmth to your home like quality hardwood flooring. Available in many different sizes, qualities, and species, it's easy to get confused while shopping. At Giant Don's Flooring America we can help you through the process of selecting exactly the right hardwood floor for your home. Our hardwood flooring stores in Anchorage and Wasilla provide you the best flooring product available.
There are many reasons hardwood flooring is such a great choice for your home. Wood flooring may be the last flooring you ever buy. Worry-free maintenance and a lifetime warranty on all hardwood floors will give you confidence that your new wood flooring will provide you years of beauty. Hardwood floors are also the best choice for those with allergies. Synthetic carpet fibers trap dust, pollen, pet dander and other allergens, and they can be difficult to clean. Wood flooring is easy to maintain and provides you with a healthier living environment. Simply vacuum and mop weekly, and keep the floor dry — that's it! Our reputation in Anchorage and Wasilla for our hardwood floor installation is second to none. We are confident enough to encourage you to compare our products and services with any other Anchorage and Wasilla hardwood flooring company. We know that we offer the best products for the best price in comparison with other Anchorage and Wasilla hardwood companies.
Solid Hardwood
Solid wood is milled from a single 3/4" thick piece of hardwood. Because of its thickness, a solid hardwood floor can be sanded and refinished over several generations of use. Solid wood flooring expands and contracts with changes in your home's relative humidity. Normally, installers compensate for this movement by leaving an expansion gap between the floor and the wall. Base molding or quarter round is traditionally used to hide the extra space.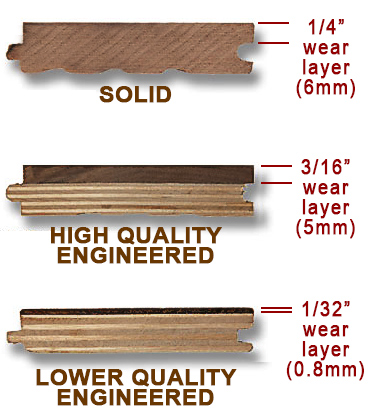 Engineered Hardwood
Engineered wood is produced with three to five layers of hardwood. Each layer is stacked in a cross-grain configuration and bonded together under heat and pressure. As a result, engineered wood flooring is less likely to be affected by changes in humidity and can be installed at all levels of the home.
Hardwood flooring is available in many different species and constructions. Depending on its application, your choices may be limited to a specific construction type. If you plan to install over concrete, you must use an engineered product to ensure structural integrity. Solid wood flooring or engineered flooring may be used over plywood, wood, or OSB subfloors. If you are considering flooring for a bathroom where continuous moisture is expected, you will want to select a product other than hardwood. While the moisture resistance of an engineered hardwood makes it suitable for rooms below grade or ground level when installed with a moisture barrier, it is not advisable to install any hardwood flooring in a bathroom. Come talk to the experts at our store in Anchorage or Wasilla.